Slim down and get a toned and shapely silhouette with BonRFSlim
Slim down fast with Bon Aesthetics'
BonRFSlim
, a body slimming & contouring treatment utilizing Radio Frequency (RF) technology.
How does it work? RF energy is directed at subcutaneous fat layers to break down adipose tissues, which are subsequently discarded by the body safely. RF is extremely effective in promoting collagen and elastin growth as well as boosting skin tightening, particularly in improving the appearance of cellulite.
Collagen Regeneration
The heat emitted from RF energy have a positive effect on collagen and elastin fibres underneath skin – it causes them to contract and tighten. RF then triggers the body to respond to the heat by stimulating collagen production in defence mechanism. The result is tighter, firmer skin.
Fats Reduction
BonRFSlim helps kickstart the body metabolism and promotes circumference reduction, contributing to body slimming. When RF energy is applied to skin, the heat causes adipose tissues to shrink and break down into fatty acids (liquid fat). These are then disposed by the body naturally through the blood and lymphatic system.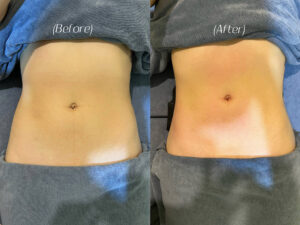 BonRFSlim Benefits:
Accelerates metabolism
Reduces Body Circumference
Firms and tighten sagging skin
Preventive wrinkle and aging
Regenerates collagen
Reduces stretch marks
Improves appearance of cellulite
Lifts post-pregnancy sagging skin